Chia Seeds
€9.00 – €48.00
Chia is a member of the Mint family and its seeds have gained huge popularity due to their impressive array of nutrients and potential health benefits.
Benefits:
– They are an excellent source of omega-3 fatty acids, rich in antioxidants, and they provide fiber, iron, and calcium.

 

– Omega-3 fatty acids help raise HDL cholesterol, the 'good' cholesterol that protects against heart attack and stroke.

 

– If you eat them in moderation, chia seeds can significantly lower blood sugar levels due to the high amount of fiber, which slows the absorption of sugar in the blood and can decrease blood sugar levels.

 
Vegans
Chia seeds are often used as a thickening agent and can even be used as a vegan substitute for eggs in pancakes, muffins and breads. To replace one egg, whisk together 1 tablespoon (7 grams) of ground chia with 3 tablespoons (45 grams) of water until fully absorbed and thickened.
Description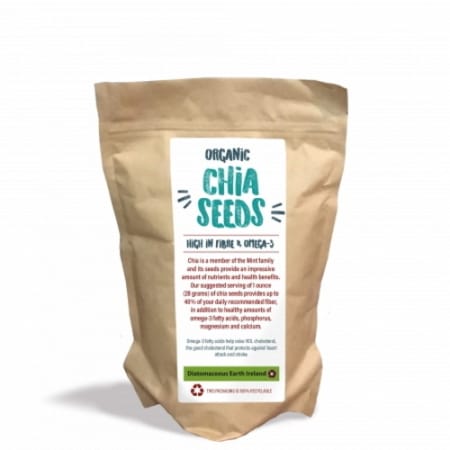 Usage Recommendation:
How much Chia Seeds should I take?
Our suggested serving of 1 ounce (28 grams) of chia seeds provides up to 40% of your daily recommended fibre, in addition to healthy amounts of omega-3 fatty acids, phosphorus, magnesium and calcium.
IMPORTANT: Chia seeds are able to absorb 10–12 times their weight in liquid so its important to soak them for at least 5–10 minutes before you eat them. 
Only logged in customers who have purchased this product may leave a review.
Diatomaceous Earth Ireland
Registered Business No. 372718.
Registered Importer & Retailer of compound feed no. IERN236563